KME sells wire products at every finish level. We supply standard wires as well as custom-made wires in every size, width and thickness, and also special wires for very small industry niches. We offer tinned wire as well as bare wire. Tin coating as a total tin coating on pre-drawn wires can be done to customer specifications. The total tin coating on finished wires is from min. 0.5μm to min. 0.8μm pending on the thickness of the wire. This allows our customers to conduct their business flexibly and in the way they wish, and to gain competitive advantages.
Typical areas of use
Lightning protection & earthing
Power engineering
Heavy current engineering
Telecommunications
Solar power
Wind power
Offshore / submarine cables
Automotive, rail & aviation
Packaging industry (copper welding wire supplied on reels)
Delivery & Packaging
All KME products come in specially made, standard-compliant, secure packaging. This guarantees retention of shape, ensuring that a product's properties are preserved to the utmost after leaving the factory. We can assess individual requirements provided they can be presented technically, and offer them for an extra charge. For a detailed overview of vats in different sizes, coils/rings on wooden pallets or as steel/plastic coil and pallet, please contact as directly.

---

CONTACT
Denny Kolbe
denny.kolbe@kme.com
+49 3476 89 2845
+49 160 96 32 89 32
STRANDED WIRE, STRANDED WIRE ROPE, PLAIN WIRE ROPE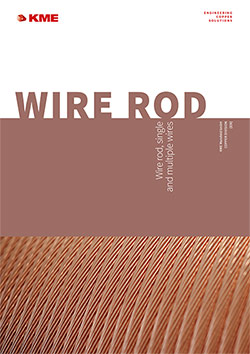 Wire rod, single and multiple wires
WELDING WIRE