KME supplies the entire spectrum of cast-rolled wire, from thick, medium and fine wire to wire rope and stranded wire. Our fully integrated Contirod® technology at our KME Mansfeld GmbH production site in Hettstedt allows us to offer copper wire rope and alloy wire at a wide range of finish levels.
Our production plant for cast wire enables us to manufacture cast wire for special applications such as oxygen-free, highly conductive copper wire with a copper content of more than 99.95%. It extends our value-adding depth, gives us additional flexibility, and enlarges our capacity to produce special copper wires. By opting for KME wire products you are choosing a maximum diversity of products and dimensions, comprehensive advice and support conc. product development, surface and material qualities and optimising the use of materials (diameters and cross-sections).

Typical areas of use
Electrical industry
Automotive industry
Telecommunications

Packaging
All KME products come in specially made, standard-compliant, secure packaging. This guarantees retention of shape, ensuring that a product's properties are preserved to the utmost after leaving the factory. Sea-freight packaging is something else we offer as standard. We can assess individual requirements provided they can be presented technically, and offer them for an extra charge.
STRANDED WIRE, STRANDED WIRE ROPE, PLAIN WIRE ROPE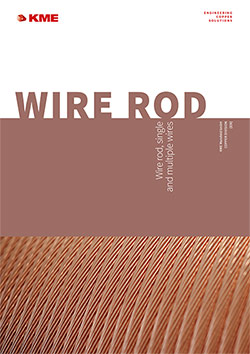 Wire rod, single and multiple wires
WELDING WIRE