KME's wire rod is made in our own foundry. It is produced at our KME Mansfeld GmbH production site in Hettstedt using the Contirod® process and complies with the highest quality requirements. Our cast-rolled wire is used as a primary product for all of our drawn wires. We manufacture it in compliance with European and international standards. If required we can guarantee certain properties, including in compliance with specific customer requirements.
Our recently commissioned new production plant for cast wire enables us ourselves to manufacture cast wire for special applications such as oxygen-free, highly conductive copper wire with a copper content of more than 99.95%. This is used in special profiles employed in the electrical and automotive industry as well as telecommunications.
Typical areas of use
Electrical industry
Automotive industry
Telecommunications

Typical areas of use as prematerial in the following applications:
Wires and strands in cables and conductors
Railway materials
Conform applications
Delivery & Packaging
All KME products come in specially made, standard-compliant, secure packaging. This guarantees retention of shape, ensuring that a product's properties are preserved to the utmost after leaving the factory. We can assess individual requirements provided they can be presented technically, and offer them for an extra charge. A typical packaging is on a pallet of 1.800 x 1.800 mm for coil weights from 4,8 t up to 6 t.
Other packaging and configurations are available on request.

---

CONTACT
Christoph Busch
christoph.busch@kme.com
+49 3476 89 2265
+49 151 16 10 13 47
STRANDED WIRE, STRANDED WIRE ROPE, PLAIN WIRE ROPE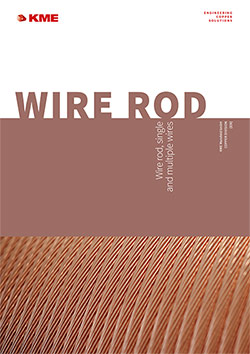 Wire rod, single and multiple wires
WELDING WIRE