KME Group: completion of the share capital increase of KME Italy S.p.A. in favour of S.A. Eredi Gnutti Metalli S.p.A.
Milan, 22nd June 2021 – Today the extraordinary shareholders meeting of KME Italy S.p.A. ("KME Italy"), an indirect subsidiary of Intek Group S.p.A. ("ITK"), has taken place, thereby allowing the S.A.
Eredi Gnutti Metalli S.p.A. ("EGM") to reinvest the whole consideration deriving from the transfer of EGM's rolled products business to the KME Group, in newly-issued shares of KME Italy. The share capital increase that will be effective from next 30th June has allowed EGM to become the owner of a percentage equal to 16% of KME Italy.
The above-mentioned transfer was completed on 3rd June 2021, after the fulfilment of the conditions precedent envisaged in the framework agreement signed by ITK and EGM on 19th May 2021 and communicated to the market on the same date.
The transaction, as fully completed today, has enabled the two Italian operators to combine their knowhow, production capacity, distribution channels and logistical facilities, with the aim of producing operational efficiencies and achieving the necessary level of competitiveness on the market in order to provide the best possible service to the customers.

* * *
The press release is available on the Company's website, www.itkgroup.it. Additional information may be directly requested from the Company (telephone number +39.02.806291; e.mail: info@itk.it) and through the "eMarket STORAGE" system operated by Spafid Connect SpA at the address: www.emarketstorage.com.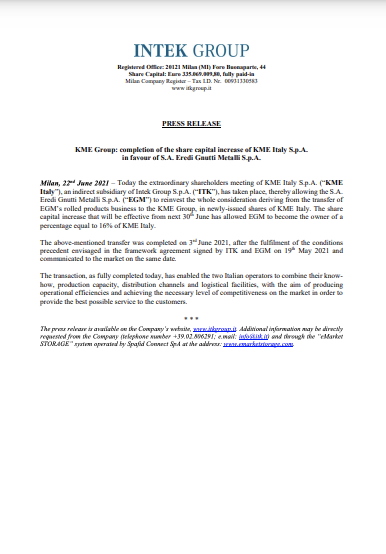 KME GROUP: COMPLETION OF THE SHARE CAPITAL INCREASE OF KME ITALY S.P.A. IN FAVOUR OF S.A. EREDI GNUTTI METALLI S.P.A.